Automate Managed Print Services For Your Customers With AutoMPS
Meet the fully automated Managed Print Service to order and ship ink & toner to your customers before they run out
Manage your customer's print services easier than ever before by automating new ink & toner orders when printers run low
Plug In To Begin
Connect the printer detector and find devices on the relevant network
Automated Ordering
When your customer's printers are running low, AutoMPS sends a purchase order to the best priced distributor
Shipped Direct
Ink & toner is sent straight to the end-user, invoices are sent to you to manage as you choose
Why is AutoMPS the best choice for MSPs and VARs managing their customer's print solution?
Pay As You Go

Customers simply pay for what they use

Always The Right Toner

Automatically ordered from over 150 suppliers at the best rate

Transparent Invoices

Consolidated into one end-user invoice
Speak to us today about AutoMPS for your customers.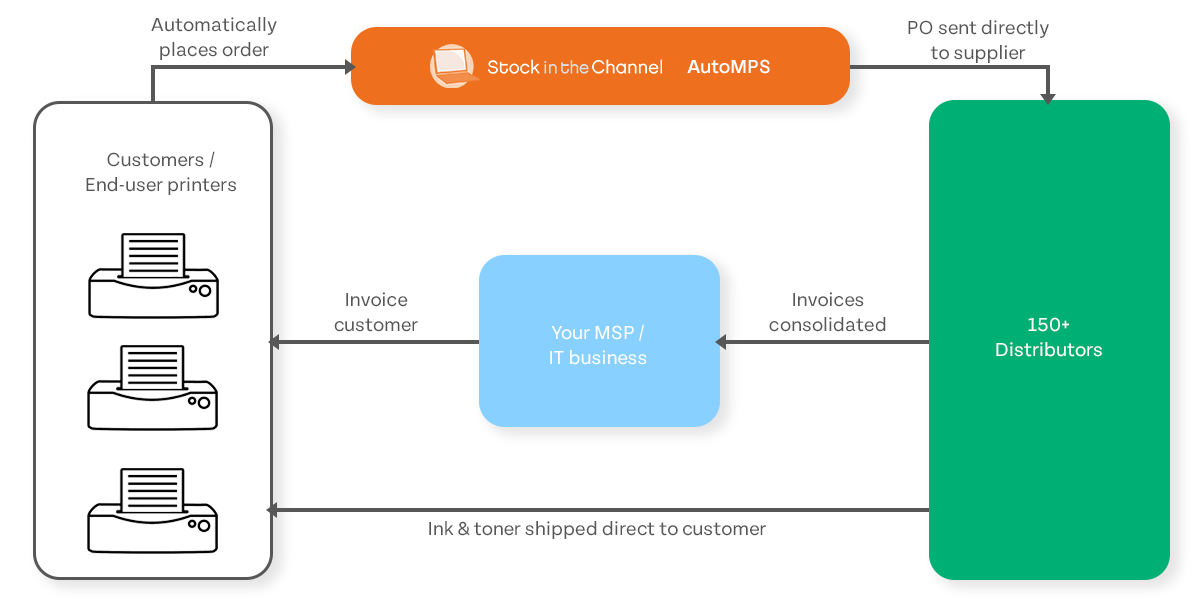 How To Sell AutoMPS To Your Customers
No contracts, no audits, just hassle-free automated ink & toner ordering so that you customer never need to stop.
Pay-as-you-go means customers can cancel anytime by simply unplugging the device.
Ready To Start Automating Your Customers Print Services?
Step 1Contact our team and we'll review your application in 24 hours
Step 2We'll send you your AutoMPS device(s) to connect to your customer's networks
Step 3Connect to over 150 distributors, or connect your own as a private feed
Step 4Automatically drop ship ink & toner to your customers when their printers are running low
Step 5Quickly and easily consolidate your customers orders into one invoice, providing a full audit trail