Send Accurate Quotes for Products from Distribution
Build quotes with up-to-date stock, personalised prices and full product descriptions. Add services, customise margins and send to your customer in seconds. Designed especially for MSPs & VARs.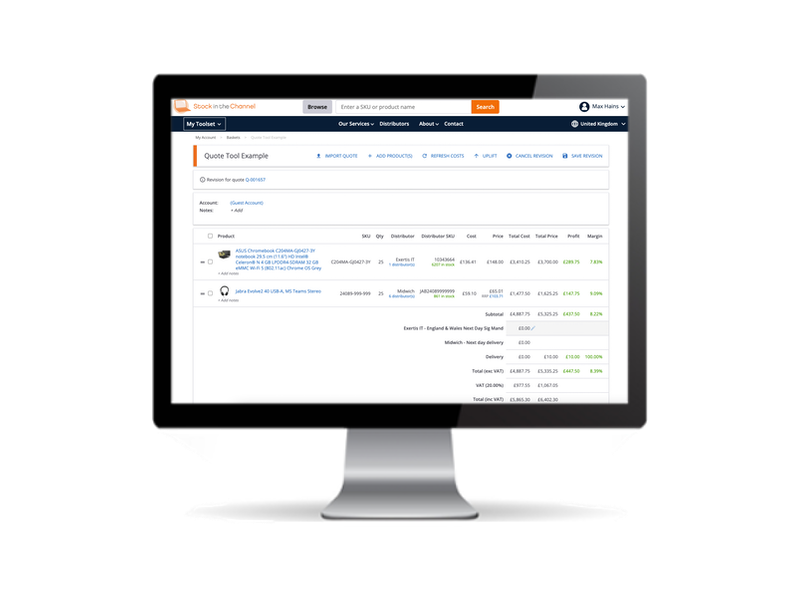 The Quote Tool Made for IT Resellers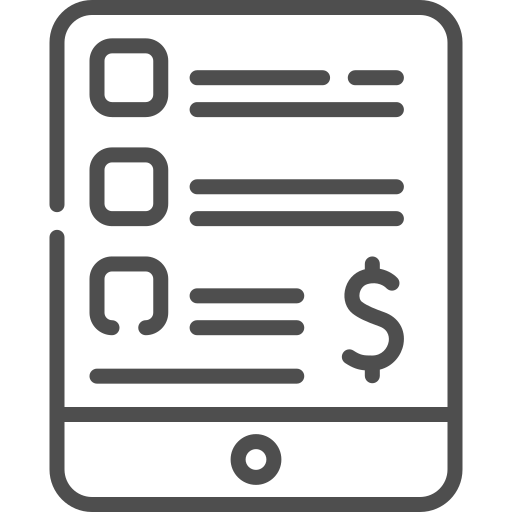 Quote with Live Stock & Pricing
Build quotes with real-time stock and pricing from Stock in the Channel
Create Quotes for Millions of Products
Quote 7 million IT products from 300+ trade distributors
Collaborate with Customers
Work on quotes with your customer in real-time with Collaborative Quoting 
How the Quote Tool Will Benefit Your Business
How it works
Cloud access
Like all Stock in the Channel core services – you access the quote builder by logging into your account on our website. This makes the tool available whenever you need it, wherever you can use a browser.
The process
The quote interface was designed to be intuitive and easy for anyone who's used online shopping:
Search and find products using the powerful Search Engine.
Add those products to your basket, as well as your own stock and services.
For incremental revenue, add relevant accessories, options and upgrades suggested by the search engine.
Apply custom pricing by selecting your customer, from the address book, or by integrating your CRM, ERP or PSA.
Approve prices, layout, template and other variables.
Share your quote via automatic email, manual PDF attachment or a link to view on an individual branded webpage.
Track progress and achievement with built-in reporting.
Flexible formatting, consistent results.
Your quote layout can be edited to your requirement, while maintaining control over the overall formatting to ensure consistency between documents. Amend the order of products, group and subtotal sections, edit text descriptions, and add notes almost anywhere on the page.
Append other literature (like terms and conditions and manufacturer datasheets) to your document before you publish your quote as a PDF. We provide customised templates to get you started, and a template editor for when you want your own unique design.
Perfect Pricing
Compare Pricing from all your suppliers
Our quote builder includes our price comparison service (allowing you to see and compare pricing from all of your suppliers).
Accurate stock and pricing
Our Normalisation Engine constantly monitors stock and prices of over 5 million products from over 300 distributors worldwide. Every night we import gigabytes of stock data and thousands of personalised price files. The data is collated, normalised, then matched with product descriptions. The Normalisation Engine system then produces your custom catalogue of richly described inventory, intelligently selecting the distributor with the lowest price (including your uplift and custom margins).
Customer Specific Pricing
Allocate clients to pricing groups with margin rules to create individual price lists for your different customers. With margins by category, brand and price range combinations, plus specific pricing options for individual items, you can be as specific as you need to be.
Feature your own stock
We appreciate that you may offer your customers unique products not offered by traditional distributors, including what you have manufactured or imported yourself.
Private Data Feed
Our private stock tool enables you to include inventory from suppliers not yet listed on our site, and products you already hold in your warehouse. It brings the same level of automation to your private stock as mainstream suppliers stock, making them easily accessible when you're building your quotes.
That means you get more of the unique products that differentiate you out of your warehouse, and into your customers hands.
Benefits of using a private Stock feed
Differentiate your quotes with special products attractive to your audience
Add stock and pricing from brand new suppliers not currently listed on Stock In The Channel
Win new business and incremental revenue by offering the exact items your market needs
Clear-through ageing stock by easily promoting your own inventory on every quote
Close More Deals
The quote builder generates a link to send the quote via Outlook – attaching a beautifully presented PDF of your proposal. Then track your quote in Outlook by setting a flag. We provide a small plugin for Outlook to achieve this.
Know when customers view their online quote
We understand that timing is critical when you're trying to close a sale. Chase too early, and you can disrupt the flow, leave it too late, and you can miss the opportunity entirely. Our servers can monitor for customer views of quotes you've generated and can send you a discrete alert as soon the document is opened. That makes it easier to follow up quickly and with confidence.
See charges in cost prices
Perhaps you need a new, genuine reason to call you prospect, what better than a lower price? The normalisation engine is constantly monitoring cost prices on over 5 million line items, including everything you've quoted for. The dashboard highlights any cost price changes in open quotes you've sent out – allowing you to go back to your customer when a better deal is available, or to warn of impending price rises.
React Quickly to changes
You have complete control over the quotes you've created with the ability to approve, review and monitor all quotes in one place. This includes making revisions to items, margins and pricing as well as having full visibility of quote and order history. Find a quote, amend it and resend in minutes to the delight of your customers.
Reporting on profitability, activity and more
Profitability
View reports on quotes created and won, and see revenue and margin achievements split by key attributes, like sales rep or customer.
Quote Dashboard
View all the quotes you have created in one place in our system. Filter by product, quote status, sales rep and more.
View quotes in your own system
With our integrations to other systems, the quotes you create on Stock in the Channel appear in your CRM and PSA so you know exactly what is going on.
Order automation customers – even more value
If you use our system to place orders with the distributors automatically then we return full status and tracking information. In the rare event that there is an issue with an order you can pick up on it before your customers do.
Record every action
From initially creating the basket, through to winning the quote and later the order process and status updates – The system records every action, change, and who made it.
Also Consider
The quote builder is an excellent tool for to Sales and Procurement Automation, and you may wish to consider the other services we offer, in order to reap the maximum benefits and savings. These include:
Order Automation
Increase efficiency and visibility with zero-touch product ordering. Convert your won quotes to orders and get the orders automatically fulfilled, with order status and tracking fed back so you know exactly what's happening with the orders. You'll also be notified of dispatched products serial numbers for automatic synchronisation with your systems, for asset tracking and service calls so you know the precise device in question. Learn more.
Webstore
We can provide you with a webstore based on the leading e-commerce platform, automatically populated with your suppliers stock, featured at the same prices and margins you specify in your quotes. Showcase your products and solutions online, letting customers purchase at their convenience.
Our range of eCommerce services allows you to build professional, fully-featured B2B and consumer webstores automatically populated with your custom catalogue of your suppliers stock, plus your margin. Learn more.
B2B Customer Portal
Show quotes in your customer portal. The quotes you create can be synced with your web-store so customers can go online and view their quotes, place orders and track progress. Learn more.
Let customers request quotes online
Our Customer Portal option allows customers to request and even create quotes from within your webstore, for your salespeople then assist with and close.
Quote Faster & More Efficiently Today